By Allan Ewart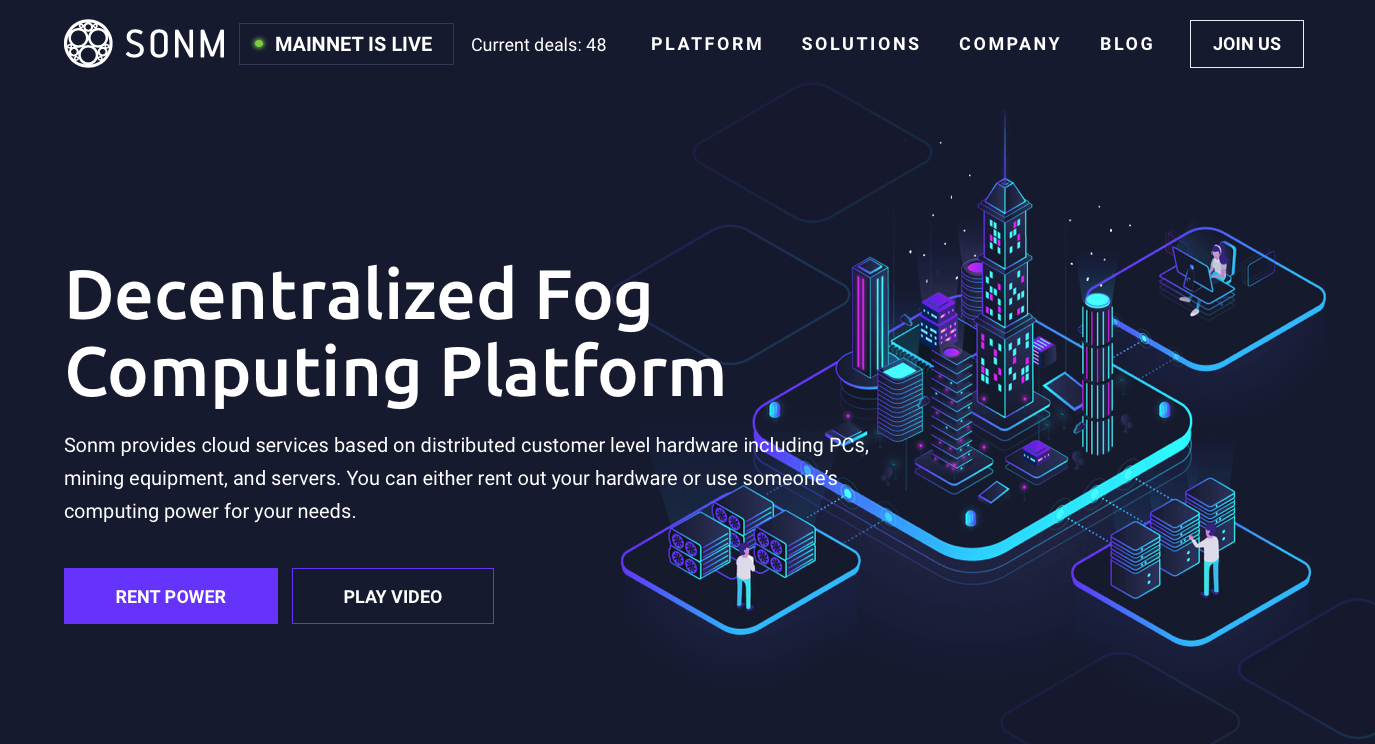 SONM was founded by Sergei Ponomarev and Aleksei Antonov in November 2016, and now has more than 70 team members based in offices around the world including London, Moscow, New York, South Korea and Singapore.
As with all things blockchain, I usually like to look for a good dose of decentralisation, and if it's absent then I'm a little disappointed. With SONM, I'm pleased to say there is decentralisation by way of a distributed network of computing power known as FOG computing.
FOG differs from Cloud computing services by removing the central single point of failure. In essence you can think of it as a distributed decentralised peer-to-peer Supercomputer that harnesses a global network of computing power.
Cloud computing has traditionally utilised a central server or network of servers within a centralised data centre. With Fog computing there is no longer any need or requirement for a centralised data centre. Thus, the SONM Fog computing platform provides:
More cost effective computing power and therefore cheaper computer services
Potentially Unlimited Scalabaility — technically there is no limit to the number of computer users renting out their resources
On the supplier side anyone with a computer and a connection to the Internet can become part of the SONM Fog Supercomputer network. They just need to download the software, connect to the network and get paid for contributing a set proportion of your computer resources.
Iaas — Infrastructure as a Service
SONM's infrastructure is a flexible working mode that facilitates automated scalable processing power, servers, networks and the deployment of storage. This offers users complete control of applications as well as the ability to use the SONM infrastructure rather than a full set of 3rd party applications.
SONM Explainer Video
Real World Use Case Examples
One of the most obvious use cases would be CGI rendering for animation or film production studios on account of their highly intensive resource requirements. Examples of Companies that might benefit from this service include:
Content Delivery Network (CDN) & Video Streaming
Cloud Delivery, Performance, and Security | Akamai
Other use cases include
Machine Learning
Big Data Analysis
Blockchain Application infrastructure.
SNM Token
Integral to the SONM platform is the Ethereum based ERC-20 SNM Token which is used to pay for services on the SONM Blockchain.
SNM has a maximum supply of 444 million and a current market capitalisation of $17 million (at the time of writing).
Where to Buy SNM?
The SNM token requires an ERC-20 based Ethereum wallet and can be purchased on the following exchanges:
Liqui — SNM/BTC
Liqui — SNM/ETH
And others, a full list of exchanges is given here.
Links
Blog: Blog • Sonm
Technical documentation: About SONM | SONM
SONM Project Telegram group: SONM
SONM Token Telegram group: SONM Token Holders
Telegram news channel: SONM news
Telegram Tech Support group: SONM tech support
GitHub: SONM
Bitcointalk: [ANN] SONM • Decentralized Fog Computing Platform
Reddit: r/SONM
Twitter: SONM (@sonmdevelopment) | Twitter
Instagram: sonm.com (@sonm.hq) • Instagram photos and videos
Facebook: SONM
YouTube: SONM
Slack: Create Account | Slack
Discord: Discord — Free voice and text chat for gamers
Disclaimer
Please note that I don't give investment advice and this article is for information and educational purposes only. Readers are encouraged to do their own research and carry out their own due diligence.
Please also note that I choose to write this piece having been selected as a SONM Champion as part of their Brand Advocacy Program.
Please follow and like us: